Edgebanding
Description: Plating small and medium series edges, any kind of plating on angles or curves, height  of 10 to 60 mm and a thickness of 0.4 to 3 mm.
Bander/gluing edges
For edge banding, BDR uses a Biesse versatile edge. This CNC machine is equipped with innovative technical solutions for working small and medium series.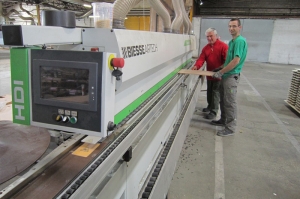 Veneer edgebanding roll application
This edge bander provides BDR's operators modern and intuitive graphical interface, and allows very fast changes of series. Monolateral, it is automatic for application coil.
Plating of all thicknesses
We can plate all types of veneers, without a visible seam, on right angles or curves, of a height of 10-60 mm and a thickness of 0.4 to 3 mm.
BDR works on all  types of projects :
Interior joinery
Large closets
Work plan
Dressing
Joinery
Etc.
For all your needs for edge banding, do not hesitate to contact us: we can study from your plans, calculate and provide supply of panels if necessary.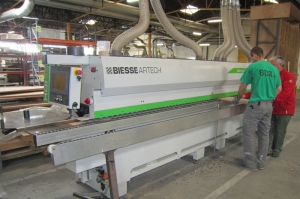 Definition of plating
In the field of wood machining, but also in more traditional trades such as carpentry and woodworking, veneer, which is also said plating, consists in applying to a panel of raw wood (oak, pine, beech etc..) or derivative (melamine, plywood, chipboard, composite, etc..) a thin film of precious wood or any other aesthetic material (plastic, aluminum, etc..). This technique is also well known in the automotive industry with the famous burr walnut.
Definition of edgebanding
Edge banding consists in applying this thin film of aesthetic material on the edge of a board or a wooden panel or derivative.